Above Ground Pool Solar cover Rollers
Please note: Not all products are stocked and may require to be ordered. Please call store for inventory details.
<<
Back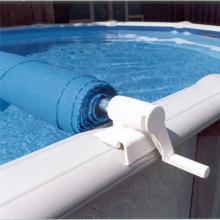 Surface Rider
Item ID: (FSR_AG)
Brand: FeherGuard


Designed for above ground pools without full decking
Both of our revolutionary new Surface Rider Reel Systems, roll up the solar blanket as it 'rides' on the surface of the water. This design offers one-person operation, portability, and performance.
The Surface Rider is designed to fit most above ground pools 13'4" to 24" s (4.1m to 7.3 m) diameter, while the Surface Rider II fits tubular rail pools of the same dimensions.
No pool attachment required.
Unique end designs makes the reel completely portable.
Complete system lifts off, leaving the pool top clear.
Special swivel feature allows for easy movement during removal.
Surface Rider features Mill Finish Tubes.

<!input value='Purchase Online (FSR_AG)' type='button' class='CTAbutton' style='width: 80%;' onClick=location.assign('store/index.cfm?acdcRedirect=FSR_AG');>

---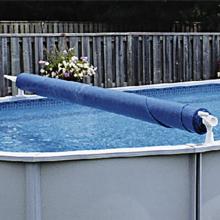 Premium AG Solar Reel
Item ID: (FPSR-AG)
Brand: FeherGuard


Our Premium Above Ground Reel System is reliable and easy to use
Designed to fit most above ground pools 13'4" to 30' (4m to 9.1m) diameter.
Wide track bearing for smooth turning.
Added convenience of handles at both ends.
Easy "lift-off and Swing" design makes it possible for one person to remove the solar blanket.
Tubes feature Silver Guard or Mill finish tubes.

<!input value='Purchase Online (FPSR-AG)' type='button' class='CTAbutton' style='width: 80%;' onClick=location.assign('store/index.cfm?acdcRedirect=FPSR-AG');>

---

Share with a friend